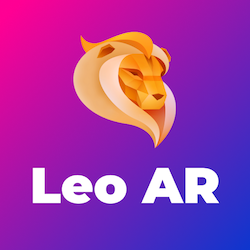 Nonvoice Agency is a network of agents searching for the best advanced consumer and enterprise 5G apps from around the world. The agency connects app developers with distributors and investors who then help accelerate the adoption and deployment of their application. Nonvoice Agency provides an ecosystem of key parties dedicated to the 5G value chain and the future benefits that these services will bring to the world.
Founder, Simon Buckingham, is available for expert commentary on 5G applications.
Leo AR is an augmented reality app allowing people to experience advanced augmented reality through realistic animated and 3D objects in the real world. The phone camera becomes a portal and tool that allows anyone to augment their world through Leo AR. People can customize any surrounding environment into their wildest dreams: expressing themselves in a new mixed reality space, as well as sharing with family, friends and other social outlets.
For more information visit: www.leoapp.com