Leo AR
MojiLaLa lnc
Edit videos with augmented reality and escape into the fun world of AR!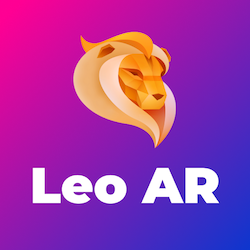 Leo AR
MojiLaLa lnc
Edit videos with augmented reality and escape into the
fun world of AR!

Escape into the fun and exciting world of augmented reality and share your AR videos! Leo AR is the easiest video maker app to add AR graphics, stickers, music, text and more to your videos. Stuck at home? Get social with AR videos! Discover amazing videos made by creators like you and share your augmented reality world. Change your surroundings and create amazing AR videos in seconds. Rock out to your favorite songs, celebrate birthdays, or even hang out with astronauts in AR! Customize the real world any way you want. How about putting a shark in your pool? Or a dinosaur in your living room? There are no limits to what you can create! Make amazing AR videos and let the world see what you can do! Leo AR makes it easy to add thousands of 3D graphics, filters, stickers, music, effects and more to your videos. Add special effects like money falling, balloons flying or a rain of roses with a tap! It's perfect for kids, adults and everyone in-between.

When you're finished, share on Leo AR or post them on Instagram and more! Share your augmented reality world or connect with friends on social media, and let your friends experience your imagination. Discover and be inspired by other creations featured in Leo AR.

Kids and families love Leo AR!

The Leo AR app uses augmented reality to make video content more exciting and fun. The easy to use app enables users to add amazing AR graphics, stickers, 3D objects, filters, music and text to their real world videos. The app has over 1,000+ realistic AR objects to choose from and once the AR video has been created it can be saved, music can be added, and it can then be easily shared via social networks.

The AR market continues to expand quickly as hardware prices decline and software capabilities improve. With the additional combination of 5G expanding globally, AR popularity and consumer usage will continue to add more opportunities for this innovative consumer app.


5G Features:
Augmented Reality multiple digital image overlays plus sound and captions works best when there is requiring fast bandwidth.
Commercial Model: